Hello and happy February!!! Close to My Heart has an amazing deal this month!! All the CTMH abulms are buy one get one half off!!! That is a savings of over $17 USD / $19 CAD! These albums are available in a gorgeous variety of colors and patterns in both post-bound and D-ring styles—perfect to pair with traditional, Studio J
®
, or pocket scrapbook layouts. This offer is only available while supplies last, so make certain to get your order in early to ensure you can choose the styles and colors you love.
Here is a picture of all the gourgous CTMH albums!
Click
here
to order.
This stamp of the month for February is really pretty! It is called "A happy hello". I love the way the text is. So elegant.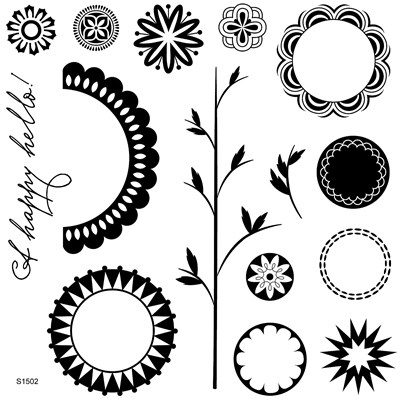 You can get this stamp set for just $5 with a $50 purchase or on it's own for $17.95. It is D size and there is 15 stamps within this set.
In Jan, I showed one of the new seasonal papers tha tis only available thru March 31st. There is also two great workshops on the go for these new papers. Here's more information:
Workshops on the Go

®
December 2014–March 2015 Seasonal Expressions 1
These projects are all from the December 2014–March 2015 Seasonal Expressions 1 idea book.
Shop for accessories and cool new products to support your creativity
.
With Workshops on the Go
®
, you create a beautiful project—either a two-page scrapbook layout or a set of cards—using the materials in just one Workshops on the Go kit, which includes papers, coordinating embellishments, an
exclusive
My Acrylix
®
D-size stamp set, and an instructional guide. (You'll also need a few basic tools you may already have.)
A new selection of Workshops on the Go kits is released at various times throughout the year in conjunction with new Idea Book and supporting material debuts, and each kit is available at a
discounted
price! Many of the kits also include an additional layout and bonus project you can create using your remaining supplies.
Below you'll find a sampling of projects you can make with our workshop kits. If you would like to make these projects on your own or attend a workshop in your area,
contact me
.
Did you know?
You can view these complete recipes, full-color photos, and helpful hints for the additional projects through December 2015.
Heartstrings Kit
Cardmaking Project
Hopscotch Kit
Workshop Layout
Additional Layout
Thank you for stopping by!! I will be showing more of these papers soon. I have been busy with birthdays and I will be showing what I have been working on for them. I don't have any gatherings booked this month, if you are interested, I would love to get you on your way to getting free CTMH products!