Welcome to the Damask Divas November Blog Hop featuring Yuletide Carol Paper! I am so excited to be in this hop!! If you came from
Felicia
, then you on on the right track. If you missed anything, you can go back to the beginning
here
. This paper pack has so many possibilities for holiday cards and beyond. I put pictures of all the Yuletide Carol products at the very end of this post for anyone interested. I made cards with the green damask paper and I used the scraps cut out from an Artfully Sent pop up card
here
. Here's what the scraps looked like on the mat. I love my cricut explore.
Z1806 to the center of the flowers. I couldn't transfer every bit of the design, but I love how these came out. They would have been pretty in a scrapbook page too or on a gift bag. I decorated a gift bag for Christmas using scraps of the green damask for the top and bottom, the flip side of the green damask is the music sheet print on the left and then a piece of the gorgeous stocking paper. I added a green epoxy bubble. I really do love them. Here's a close up of the bag. All it needs now is a tag!
Thank you so much for joining me!! I would LOVE it, if you followed my blog! Next on the hop is the fabulous
Jessica
!
I brought the Yuletide Carol scrapbook on the go kit G1084 and the complements stickers. I loved the stamp set in the kit and the images on the stickers.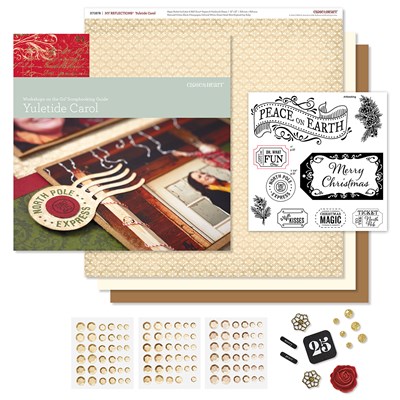 Here's the complements stickers item
X7187C
.
We are showing these early enough for you to order and have time to use it before the holidays. I will showcase in future posts how I used these complements, but they were too pretty not the share now!
Here's front and back of each page of the Yuletide Carol paper pack!